David Wells Plumb
&nbsp &nbsp &nbsp &nbsp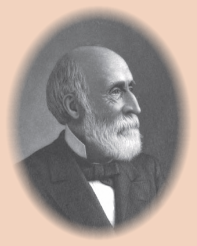 &nbsp &nbsp &nbsp &nbsp &nbsp &nbsp &nbsp &nbsp &nbsp 1808 - 1893

---

David Wells Plumb - Biography 1

David W. Plumb of Shelton, a retired manufacturer, in the town of Huntington, has served half a dozen sessions in the general assembly, being a member of the house fifty-three years ago. It is just half a century since he represented the old Fifth district in the state senate. He resided in Derby until 1868, and during the five sessions which he served in the house he represented that town. He was first elected in 1838, and in 1841 was honored with a seat in the senate. The subsequent years in the house were 1852, 1860, 1862, and 1864. His colleagues during the latter year included John M. Douglas of Middletown; Seth Thomas, founder of the great clock industry at Thomaston; Ira G. Briggs of Voluntown; the lieutenant-governor, David Gallup of Plainfield; Colonel Dwight Morris of Bridgeport; O. H. Piatt, the present United States senator; the late O. H. Perry of Fairfield; John F. Trumbull of Stonington, who was a leading abolitionist in his day; Roger Welles of the patent department in Washington; exSpeaker Charles H. Briscoe of Enfield; the late President George H. Watrous of the Consolidated road; the late David B. Booth of Danbury; Senator Homer Twitchell of Naugutuck; and President Samuel E. Elmore of the Connecticut River Banking Company of Hartford, who was then the representative in the house from South Windsor.

Mr. Plumb has been one of the leading manufacturers in the Naugatuck Valley. He started in the woolen manufacturing business in Birmingham in 1836, removing to Ansonia in 1848. This plant was sold to the Slade Manufacturing Company in 1865. Mr. Plumb then removed to the new village of Shelton, establishing his home there in 1868. Of recent years he has not actively participated in manufacturing interests, though he still remains a stockholder in a number of corporations. He has been engaged from its commencement in aiding the development of the Ousatonic Water Company. He is a director in the National Bank, the Ousatonic Water Company, the Shelton Water Company, and several local manufacturing companies. He is at present interested in the development of River View Park in Shelton, and has been one of the commissioners in charge of the work since its inception. Mr. Plumb was born in Trumbull, October 13, 1808, and remained on a farm during his minority. He received a common school and academic education, preparing him for the successful business and public career which he afterwards pursued. He has been married twice. His first wife, Miss Clarissa Allen, was united with him in wedlock in 1841, and died in 1865. His second wife, who is still living, was Louise Wakelee, the marriage occurring in 1875. There are no children. Mr. Plumb has been a man of large influence in his community, and much of the manufacturing success of that locality is due to his enterprise and foresight. He is held in high esteem in Shelton, where he has resided for the past twenty-three years.

From: &nbsp Illustrated popular biography of Connecticut, 1891


---

David Wells Plumb - Biography 2

David Wells Plumb, son of Noah and Urania (Wells) Plumb, was born in the city of Bridgeport, Connecticut, in 1808, and was educated in the schools of the city. On completing his studies, Mr. Plumb went to Derby, where he secured his first business experience. After a short period spent in Derby, Mr. Plumb went to Ansonia, where he established himself independently in the woolen business. The venture proved most successful, and under the management of Mr. Plumb the business was developed rapidly into one of the most flourishing of its kind in the associated towns of Derby and Ansonia. He rose within a short time to an established position as one of the leaders of the woolen industry. He did not, however, confine his activities solely to this field, but became identified with numerous other manufacturing enterprises in Connecticut. Among these were the Star Pin Company and the Silver Plate Cutlery Company, in both of which he was for many years president.

Mr. Plumb was vice-president of the Birmingham Natonal Bank, and a member of its board of directors for twenty-two years. He was also president of the Housatonic and Shelton Water companies. In the course of his long business career, Mr. Plumb had amassed a considerable fortune , through shrewd investment and the skillful management of the enterprises with which he was connected, and in which he was heavily interested. A man of keen perceptions, well abreast of the times and thoroughly familiar with every phase of the industries in which he engaged and the markets which he supplied, he was talented as an organizer. Just, and fair in his management of subordinates, approachable, keenly interested in every movement to better conditions among the working class, he was an ideal executive, and had the respect and even the love of the men who worked under him. The welfare of the town of Shelton, in which he lived, was always close to his heart, and for many years he sponsored movements for the betterment of educational opportunities in the town. Among the many improvements which he was instrumental in securing is the beautiful Riverview Park. This park was planned by Mr. Plumb, the grounds laid out, the site selected and the name given by him, and it was he who financed the project. One of his chief ambitions for the community was the founding of an adequate library at Shelton, and toward this end he connected himself with the Library Association, of which he was president for many years prior to his death. He died before accomplishing his design, but his will provided a liberal fund for this purpose. A brother undertook the task of rearing what in effect was a monument to Mr. Plumb's generosity, and superintended the erection of the Plumb Memorial Library at Shelton, one of the handsomest library buildings in the State of Connecticut. These are but two instances of his constant concern for the good of his fellowmen, but they give an insight into a character in which unselfishness and altruism were dominant.

Shortly before his death, Mr. Plumb retired from active business life to his home in Shelton, where he died June 29, 1893. One biographer tells us:

"In personal appearance and character, Mr. Plumb was a man of energy and force. His well developed head and firm jaw were relieved by a mouth and eye that spoke unmistakably of kindliness and humor. He was a man of much original thought, and his interest was busy with the great problems of the ages, religious, philosophical and social, his opinions on these matters being well worthy of consideration. . . . His experience with life from his earliest youth had been that stern one which teaches that nothing comes without corresponding effort, and he had accordingly ordered his life upon a system of self-imposed discipline calculated to best preserve the strength and health he knew were essential to the accomplishment of his ends."

His death was most sincerely mourned not only in Shelton, but in the business and financial circles of Derby and Ansonia, in which he had so long been a dominant figure. Tributes were paid to his memory by the numerous organizations with which he had been identified in life. None can give a more adequate conception of the life of the man, his character, and the importance of the part he played, than the following resolutions of the board of directors of the Birmingham National Bank:

"Mr. David W. Plumb, for twenty-two years vice-president and director of this bank, died at his residence in Shelton, on the evening of the 29th of June last, at the age of eighty-four years and nine months. Upon us, his associates and fellow directors, falls the duty of placing upon record our appreciation of his work and worth.

"His was a long and busy life, the earlier years of which were years of trial and struggle. His courage, his patience and perseverance, and, above all, his indomitable will and intelligent determination, overcame all obstacles, and won for him a success most richly deserved. With ample resources, so worthily gained, having established himself in his new home on the heights, and, looking out from its commanding position, as he surveyed the scene of his future activity, this thoughtful man doubtless outlined the plan of his life. His purpose is revealed in the important part taken by him in carrying to destined completion that great public work known as the Housatonic Water Company, in fostering and encouraging new enterprises; in adding another name to the long list of towns made strong and prosperous by the thrift and energy of New England manufacturers; in contributing to the endowment of a hospital in the place where he was born; and in the gift which made possible and actual a public park in the place where he died.

"As in adversity he had shown himself equal to all its exigencies, so his spotless integrity, sound judgment, independence in thought and action and coolness in time of financial or other excitement, and faithfulness to duty, revealed him equally equipped for the difficulties, may it not be said, greater difficulties, which prosperity brings. Mr. Plumb was a man of character, strong character, simple in his tastes and ways, of pure life, happiest at his home. His fondness for reading and a most retentive memory made his knowledge extensive, accurate and responsive to call. His opinions were his own, and when formed were not easily changed.

"Summoned many times by a confiding constituency to the legislative council of the State, his fidelity was as conspicuous as his knowledge of the needs and aids, which wise legislation should supply, was varied and accurate. With him public office was indeed a public trust. In his death this bank has lost an intelligent, efficient, faithful officer, one who, believing that the acceptance of office involved the obligation of fulfilling strictly all its duties, was uniformally present at its meetings, and by his watchful care and wise counsel rendered invaluable service to this institution.

"The members of this board keenly feel the loss of a courteous and most intelligent member, associating with whom has given them the highest appreciation of his character and worth. To the family of Mr. Plumb they tender their sincere condolence, and direct the secretary to transmit to them this sincere expression of their own loss and their sympathy with them in their bereavement"

On December 7,1875, Mr. Plumb married Louise Wakelee, daughter of Ebenezer and Nancy D. (Wheeler) Wakelee, descendant of an old Connecticut family of early Colonial date, which has long been prominent in the country round about Shelton.

From: &nbsp Americana, American historical magazine, Volume 15, 1921


---

David Wells Plumb - Biography 3

David W. Plumb was born in Trumbull, Conn., October 13, 1808. His father, Noah Plumb, was a dealer in cattle, and possessed a large farm on which his son worked while a boy. His early education was obtained at the common school and afterwards a short time at an academy. Upon the father removing to Bridgeport, the son David went into a store as clerk, and his employer failing in business, Mr. Plumb bought the goods and removed them to Birmingham in the spring of 1836, and built the stone factory on Main street. Here he carried on the manufacture of woolengoods, such as flannels, beavers and cassimcres, with Benjamin B. Beach, for about ten years. Dissolving this partnership he removed to Ansonia in 1848, and after building a large factory continued the same business until he sold to Wm. R. Slade in 1865. His business in Ansonia was very successful during the war.

In 1868 Mr. Plumb removed to Shelton and became much interested in the building and success of the Ousatonic dam, investing largely of his fortune in the enterprise. He was for some time president of the Ansonia Bank, also treasurer and secretary of the Ansonia Savings Bank. He represented Derby in the lower House in 1838, 1852, 1862 and 1864, and was senator from the fifth district in 1841. Being a good debater he was a useful and an influential member of the Legislature and has always been a firm opponent of the democracy. He is the only man who has represented Derby five times in the Connecticut Legislature, which shows the estimation in which he has been held by the community.

For his first wife he married, in 1841, Clarissa Allen of Derby, and for his second he married, in December, 1875, Louisa Wakelee of Huntington.

From: &nbsp History of the Old Town of Derby, Connecticut, 1880


---

Louise Wakelee Plumb :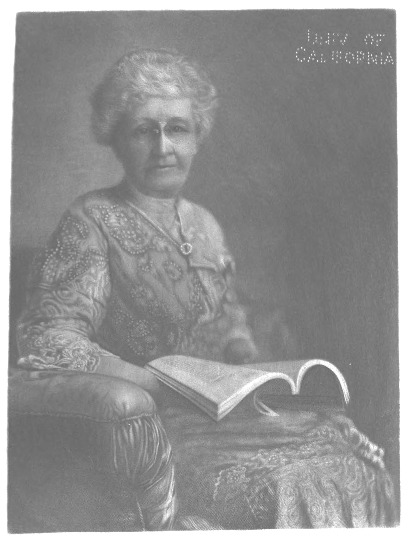 Born: March 25, 1838. &nbsp Died: Jan. 5, 1924. &nbsp She married David Plumb in 1875 when she was age 37 and he was age 67. It was his second marriage and her first. His first wife Clarissa Allen of Derby died in 1865.


---

The Plumb house, called Briercliffe, was built by David Plumb in 1868. The house was razed in 1960 and the site is now the library parking lot.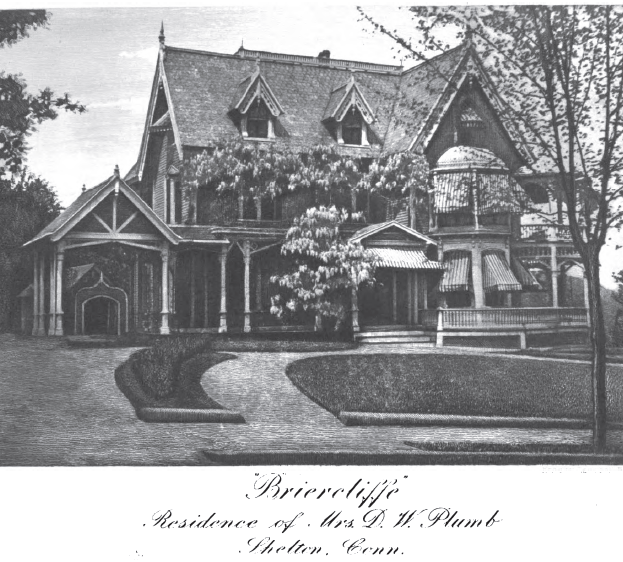 &nbsp Plumb House location in 1876 drawing at Library of Congress: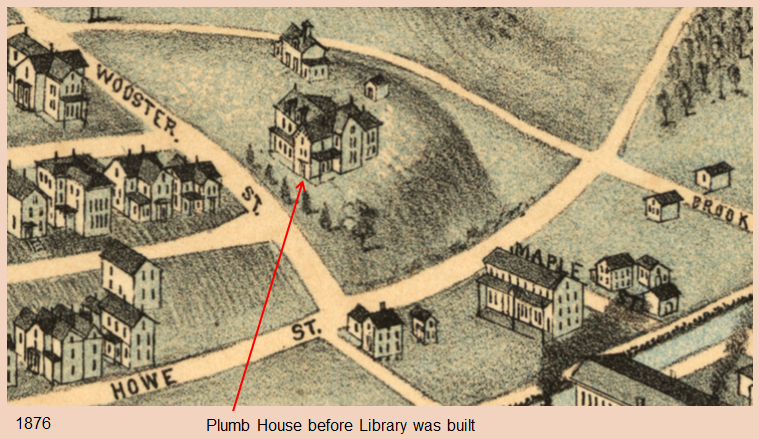 &nbsp Plumb House and Library location in 1898 drawing at Library of Congress: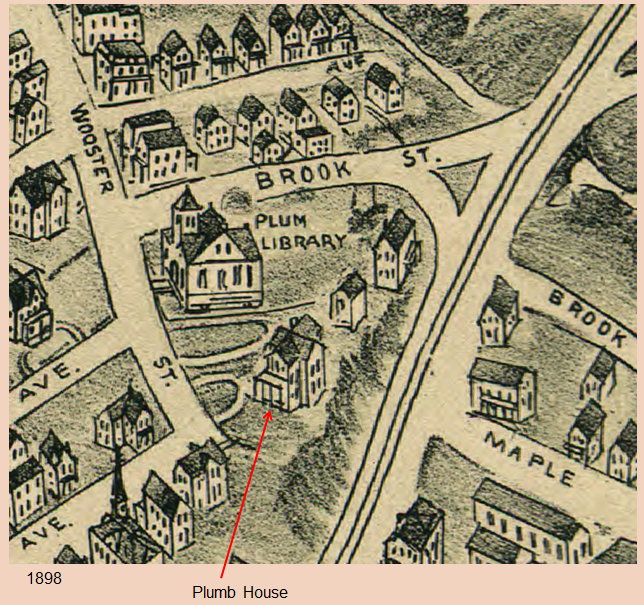 &nbsp Plumb House and Library location in 1919 drawing at Library of Congress: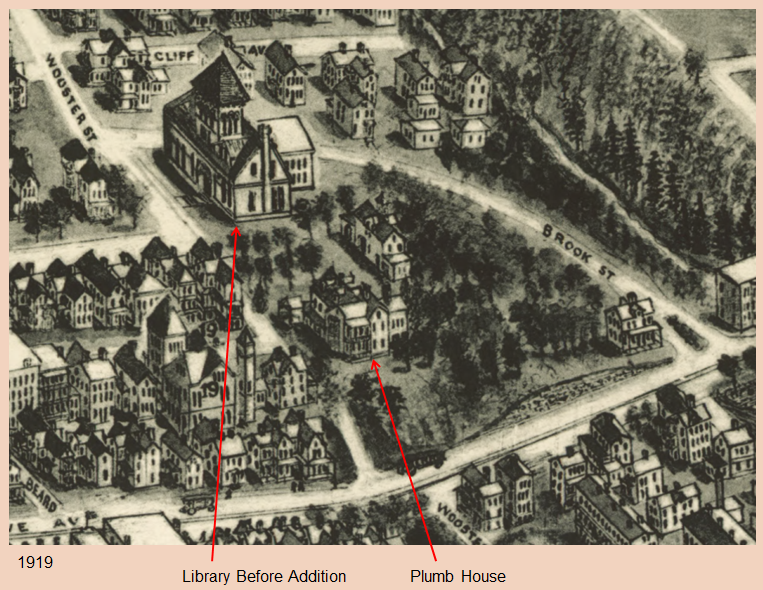 &nbsp Plumb Library aerial view Google Maps 2021: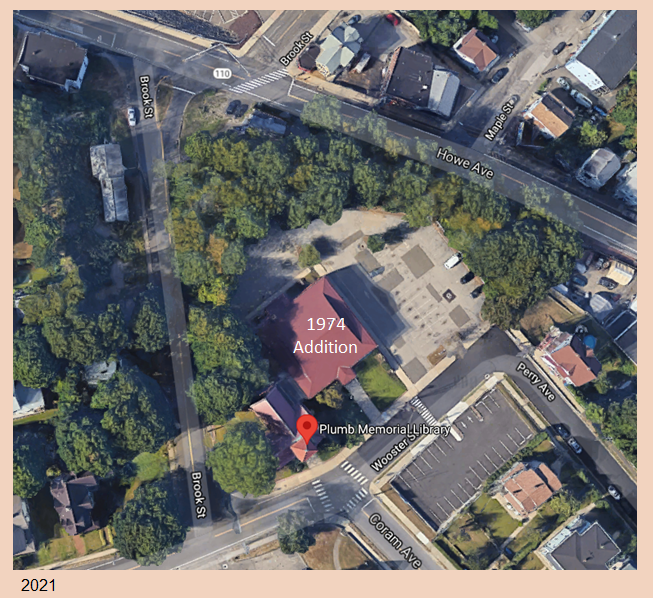 ---

The bas-relief plaque on the front of the library was carved by Emilio F. Patti (1860 - 1909) who worked in the Italian school: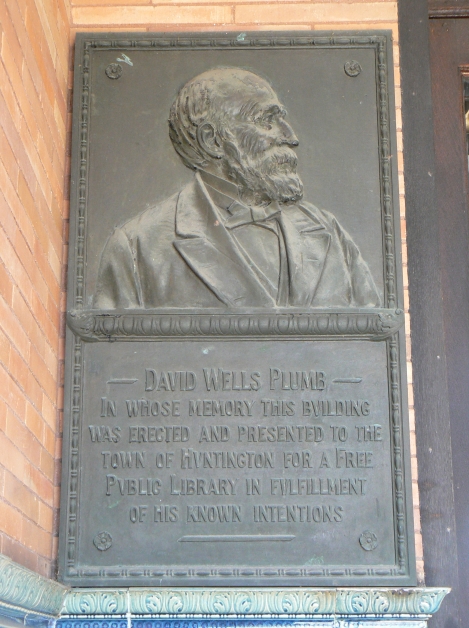 ---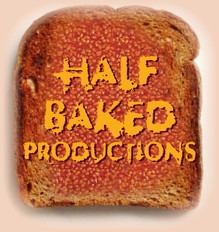 Mike Robinson - Dec 14, 2011

Added Historical Drawings of Original Plumb House and Library - May 27, 2021

elegantpie@hotmail.com

https://www.elegantpie.com